post by Peter Boyes (2018 cohort)
As part of the programme with my industry partner Ordnance Survey (OS), each year I attend what they call a Research Workshop. It's a multi-day trip down to their headquarters in Southampton, where they host all their sponsored PhD and Post-Doc students for a colloquium from their partner universities and programmes, both in the UK and a couple from abroad. The days consist of presentation sessions broken into themes of research, these presentations are given by each of the sponsored researchers to an audience of the other colloquium attendees and OS staff who drop in to relevant and interesting themes or talks over the days. In the breaks between presentation sessions there are poster sessions, each student presenting a poster of their work and able to talk with staff or other attendees there. These posters are also displayed over the course of the event to enable staff to drop by and take a look while they may be unable to attend a full presentation session, note questions and get in touch by email or later on in a break when the researcher is free. In addition there's often a keynote speaker that kicks off the morning session talking around the general theme for each day.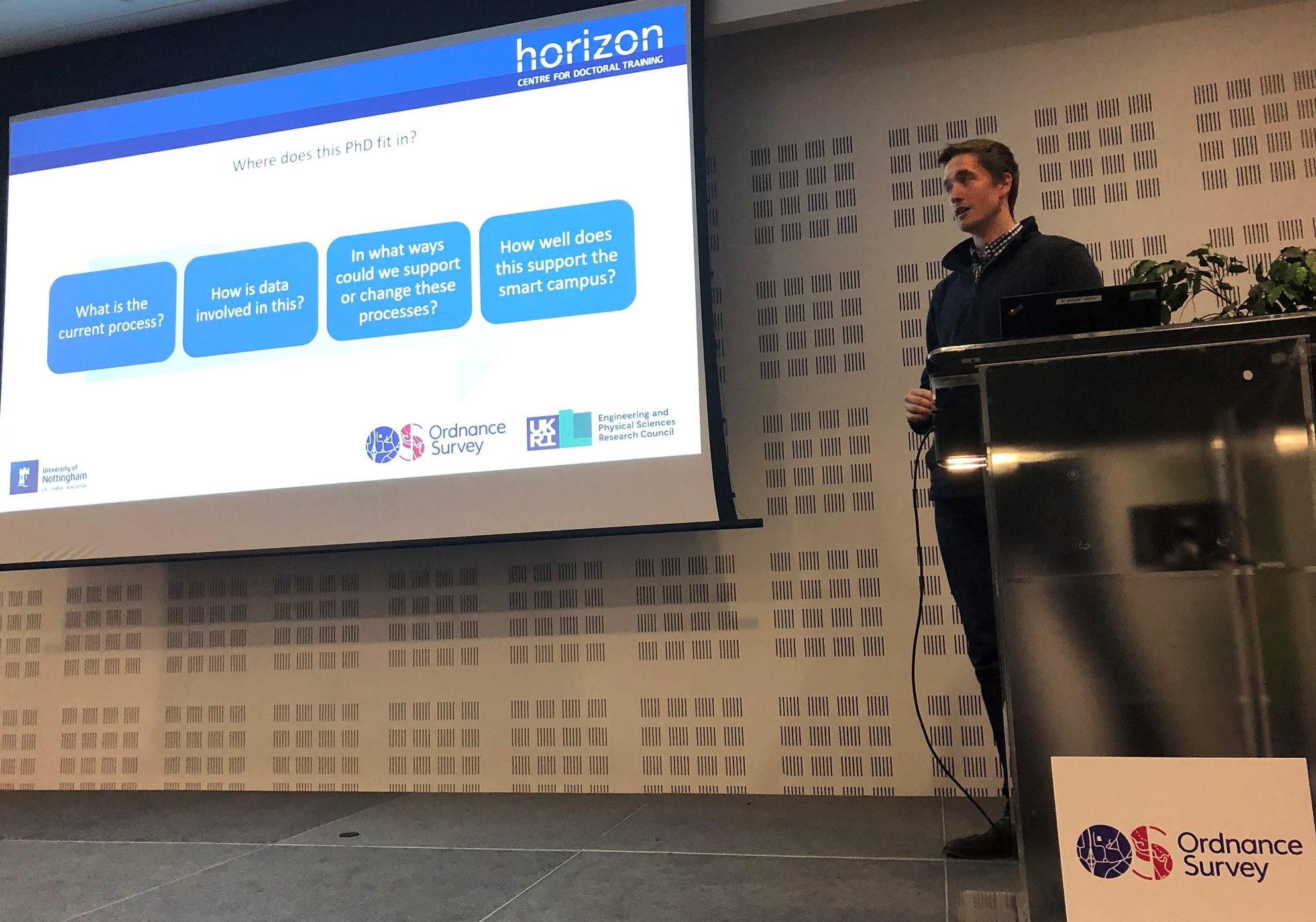 As an annual event I have been able to attend at different stages of my PhD, and see progression across the visits. My view of the purpose of the event changed over appearances, and so did my confidence in my topic and myself. The conference-style event, presenting a poster, giving a talk, handling a Q&A with OS staff and fellow postgraduate researchers gave me a chance to learn from people going through the same process and some advice from them at their different stages of the postgraduate timeline. Over multiple poster sessions I honed the elevator pitch of my research for that year, and developed an understanding of my blind spots, the recurring questions that obviously I hadn't anticipated or covered well enough in the poster, while developing my communication skills to multidisciplinary audiences. This was an opportunity to see others' work that was similar to my field in different ways, and to practice communicating the research I was hoping to do or had done at the time of the workshop.
There is something to be said for not having any supervisors there, a little bit of a shock for me in my first year still settling into the doctoral training program at Nottingham. The student-supervisor relationship is a valuable one when navigating a PhD, but at this event I felt truly independent. At similar style events such as our Horizon CDT retreat I feel like even if they don't contribute in my presentation, my supervisors are there in the background in the room or on the Teams call and may step in with comments or questions to jolt me along or help, but this wasn't like that. This was more akin to what I expect conferences to feel like as I prepare to attend one and present later this year. Their contribution is there in the work, but I must be able to present and discuss the research as an independent researcher.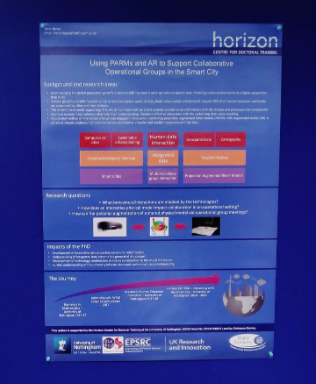 The event and this write-up gave me an exercise in reflecting on what stage I am at in my research. My first time attending, I was in the first year of the course, 5 months or so into my PhD and hadn't exactly done an explicit research activity or carried out a study to talk about, I was still finding my feet. In that year, I talked mostly about my higher education background, my interests in a wide scope, essentially proposing questions I could explore and using the session to gauge some feedback on areas others thought could be interesting. This included areas to explore or advice on going down those paths, suggested literature or studies. Helpfully at this OS workshop there was an industry perspective on the applications and not just the theory or literature side or presentations.
In the next year, I could see for myself when making my presentation that my scope was narrowing, I was settling into an academic area, research questions were emerging less fuzzy, more defined even if not settled on at that point still. With the audience I was more engaged in discussion of conducted or planned studies and details of these, and looking towards potential research output goals and again the applicability to other sectors and industry.
With one of these trips to Southampton left to attend in my final run to thesis submission I will hopefully be in early write-up stages, and will be able to demonstrate some really interesting findings from this last year and my final study, and engage with those in their first years attending the workshop about their experiences in the PhD journey to that point.
To bring this to a conclusion, I would encourage postgraduate research to look for these colloquiums/consortiums even if not offered by your industry partner as they can help you engage with your research in a different way. These are an opportunity to participate without the same pressure or work of preparing a paper and submitting to a journal or conference, those are different experiences, both highly beneficial. I would also recommend in the way writing this has been for me, to engage with reflective exercises for your journey to recognise, even if for just yourself, the work you have been doing, the changes and narrowing of scope, and your understanding of a field or concepts. I would also encourage industry partners with multiple postgraduates across the country to try and organise events like these to support their development, and help to establish academic and industry networks they may be struggling with confidence or opportunities to build beyond their own centre or institution.