Post by
Harriet Cameron (2018 Cohort) and Velvet Spors (2017 Cohort)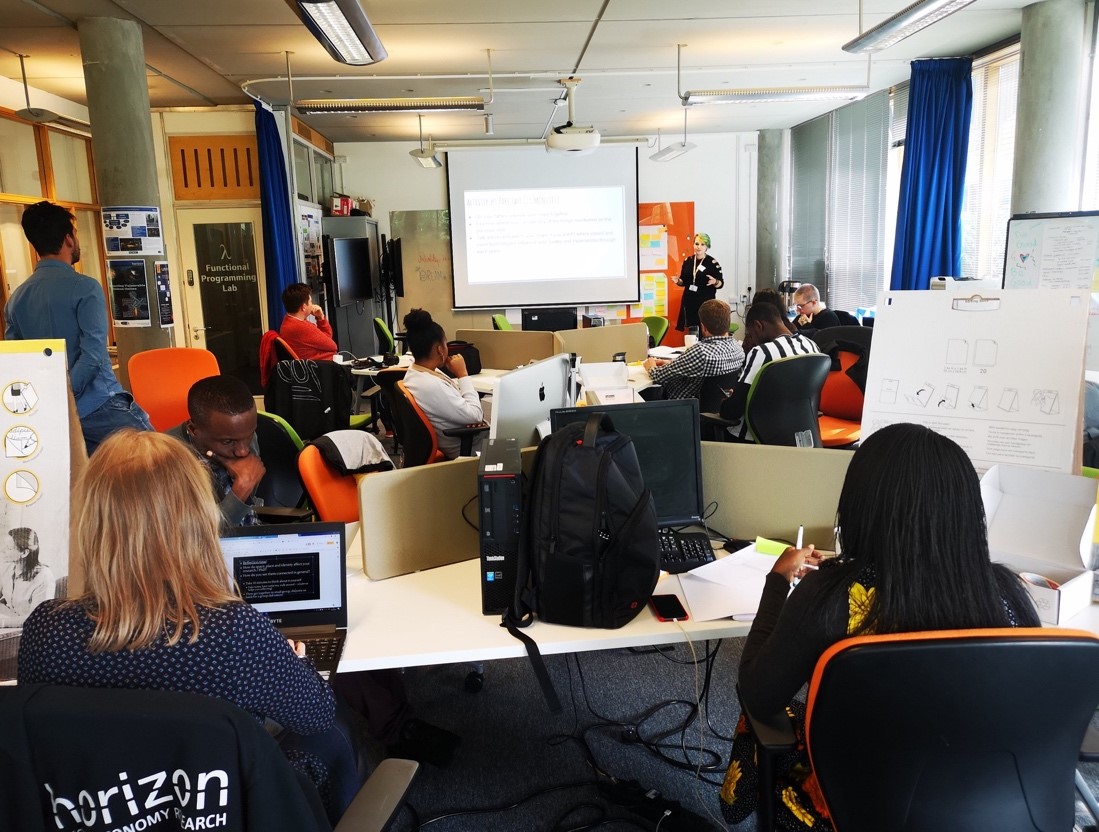 Hi, our names are Harriet and Velvet, and we're PhD students within the Horizon CDT. In September 2019 we ran a full day workshop as part of the Digital Economy Network summer school. The workshop was designed to reach academics from across a broad spectrum of subjects and schools of thought, and bring them together to explore how identity, space, and place (ISP) were present in their research.
We ran the workshop as a group of four researchers; Velvet, Harriet, Luke and Hanne, all of whom are currently at various stages of their PhD's within Horizon, and all of whom have different academic and professional backgrounds. We came together as a group because we recognised that each of us had a strong link with identity, space and place within our work, and were keen on exploring how these concepts both shape, and are shaped by, a wealth of different influences. For instance, Harriet comes from a background in human geography, and explores situated identities in both virtual and physical worlds, and Velvet is interested in human-centred, holistic ways of being with each other as a way of caring for yourself—being explicitly and implicitly connected. Together, we were able to provide a broad basis of theoretical and practical knowledge about identity, space and place, in order to facilitate valuable discussions around the importance of these topics, and their impact on research practices and outcomes.
We split the day into three core sections, each to address a different aspect of ISP. The first part of the day was spent simply getting to grips with these ambiguous and diverse concepts, sharing each other's understandings and reflecting on our own assumptions. In our first activity, we set everyone free to spend a few minutes running around Jubilee campus, and finding examples of identity, space, and place; sending photos back to us so we could then discuss what everyone had chosen and why. This was a fantastic exercise, because all the photos taken were unique and showed completely different interpretations of not just definitions of identity, space, and place, but also different interpretations of the spaces they interacted with.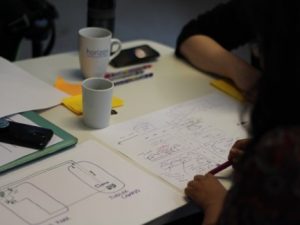 The second part of the day was designed to encourage reflection on how ISP affects daily life, and daily routines. We asked each delegate to draw a map of a route they take regularly or had recently taken, and then talked through what each person had created. Each map was highly individualised, in terms of what was represented, how those things were represented, and how the delegates showed their own personalities on their maps. This activity demonstrated not only how ISP impacts every single person on a mundane level, but it also allowed us to begin discussions on how technology shapes and is shaped by ISP at a day-to-day level.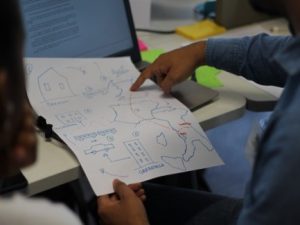 The third part of the day continued to draw on themes of technology in ISP and got everyone thinking about how ISP related technology might be shaping their research, and how technology could be used to capture and explore ISP more overtly. In this section we got everyone to play free games related to ISP in some way and talk through which elements from our earlier discussions were apparent in the games, and which were more hidden. This allowed for some great exploration of how virtual and digital space, place and identity can be experienced, accessed and represented.
The last bit of our write-up contains personal reflections from each of us individually, showcased in a conversational presentation (if you feel like it, please read it out loud in two silly voices!).
Velvet: We ran the workshop not only to get researchers thinking about these complex themes and how they shape and are shaped by our research, but also as a part-experimental pilot and part sense-making activity: It was designed to feel the space out — literally and figuratively — to see if there was potential for a collective way of working and being with each other. Happily, the workshop was a success, and it seems that long term connections were made which will be fostered as a mechanism to continue these crucial discussions and share knowledge between participants.
Harriet: The multitude of voices we were lucky enough to bring together for the workshop, ranging from computer scientists, to engineers, to architects and more, contributed momentously to the positive outcomes we were able to draw from the day. It also demonstrated the value of these kind of events, where researchers with different ideas and perspectives come together, break each other out of their comfort zones, and question the assumptions that are all too easy to forget to question ourselves. It's sometimes easy to become so involved in your own subject that you can forget the real-world applications and implications of concepts you may have come to take for granted. Hearing from those other perspectives not only re-centred us, but it also gave some fresh ideas and takes on those topics that we had almost forgotten to continue to critically examine. This was best demonstrated for me during our discussions defining space, place and identity early on in the day, when one delegate offered their definition of place as a "region in space, defined by co-ordinates". This was so interesting, because they took their definition and applied it to cyberspace, comparing co-ordinates as used in the physical world, to URL's used to navigate the internet. They explained that navigating websites, much like navigating physical places, requires you to narrow down your co-ordinates further and further, until you reach a point where you are capable of finding your exact destination. In the real world, this might be zooming in on your map app, or switching to a local paper map instead of a regional one. Online, this might mean navigating to the area of the website which contained the content you were interested it, by clicking through toolbars and hyperlinks. This offered a fresh perspective on navigating online spaces which I had never consciously considered before and has contributed to my own understanding of cyberspace.
Velvet: But apart from these overarching understandings and fresh impulses, running the workshop also generated insights for own personal research.
Harriet: A big part of my own research centres around trying to understand identities of individuals as situated, fluid constructs which are performed as part of social, cultural and political contexts. Part of the value of this workshop for me came in the form of being able to see those different identities demonstrated, not only in the context of students studying all over the UK taking part in a workshop at the University of Nottingham, but also in the ways that those different identities were reflected on during the activities and within the discussions. During the mapping activity for example, we were shown what priorities and performed identities the workshop participants had as part of their daily routine, be that in the form of their favourite shop, their place of worship, their favourite places to study, and so on. No two maps were drawn in the same way, even if they shared certain places or themes, demonstrating the breadth of experiences and the impact of our own identities on the landscape.
Velvet: On a very individual level, this workshop also showed me how people approach similar topics in very different, multifaceted ways. For my own PhD work, this means that I now feel even stronger about bringing people from different areas together and to create a safe, inclusive and open space together, so that synergies and a mingling of ideas can happen. When we first discussed doing this workshop, we were worried – perhaps even slightly apprehensive – about the experimental and open nature we wanted to implement. Most workshops we have attended in research or academic settings tend to be very directed, expert-led and focused on clearly defined goals or outcomes. In most of these workshops, we also bring ourselves in as a researcher or expert – a very different version of ourselves than in private. In a way, our workshop asked for a researcher perspective, but also a very private and personal one. Bringing an authentic version of yourself into an unknown space is difficult and a slightly scary undertaking – especially if you feel strongly about the concepts that are being discussed. Space, place and identity can become very personal very soon, especially since they are ideas and factors that everybody has experienced. Bringing lived experienced into a group requires a collective understanding of what it means to open up and how to approach it respectfully, without letting ideas go unchallenged. Now, having conducted this workshop, I am excited about exploring a variety of facilitation, openness and outlines with space/place/identity and in my own studies – especially how to do the whole process justice.
Harriet: In conclusion, hosting this workshop as part of a series of Digital Economy Network summer school activities was a fantastic opportunity to share and develop expertise and ideas, with a host of others who all brought their own invaluable perspectives to the workshop. On a personal note, it was also a much-appreciated plunge into facilitation and public speaking, in a way where I was able to practice those valuable skills, in a space with other researchers at similar points in their academic journey, whilst also facilitating and encouraging them to do the same.
Velvet: After a personal reflection and getting feedback, we aim to turn "Space/Place/identity" into a series of activities, with other workshops and get-togethers to exchange knowledge, but also to hold space for each other to be. How that's going to look like in future? We are not entirely sure yet, but this workshop has laid out the groundwork for sure. We aim to facilitate it in an unconventional, experimental way that allows for a non-hierarchal way of organising ourselves. Maybe we are going back to web rings, individual HTML webpages – maybe we are going to use peer-seeded automated networks. Whatever shape it might take, we are excited to work on it collectively!
Finally, we want to shout out to Felicia Black and Monica Cano, whose patience and perseverance made this workshop not only possible, but a success. Thank you, Felicia and Monica!