post by Gustavo Berumen Salazar (2017 cohort)
Hello everyone. I hope you are doing well and are well-supported during these trying times. This period has allowed me to reflect on two public engagement activities that I took part in last year. The activities involved two exhibitions where I had the opportunity to engage with the public presenting three Mixed Reality Lab (MRL) creations in two venues (MRL at CHI, 2019 and Halfway to the Future, 2019). The MRL creations that I presented were:
Touchomatic
A touch-based two-player cooperative video game, in which each player holds a sensor stick with one hand and touches the hand of the other participant to control how low and high an airship can fly. Participants have to find the sweet spot to fly the airship to collect coins and not run out of gas.
Get Screwed
A virtual reality (VR) experience that plays with notions of control, sensory misalignment, and vertigo. Participants are placed on top of a swivel chair which is rendered as a bolt by the VR interface and attempt to unscrew it by turning.
VR Playground
A VR exploration of sensory misalignment, in which people use the motion of a swing to control their navigation through the virtual world. The VR interface couples the motion with movements in the game.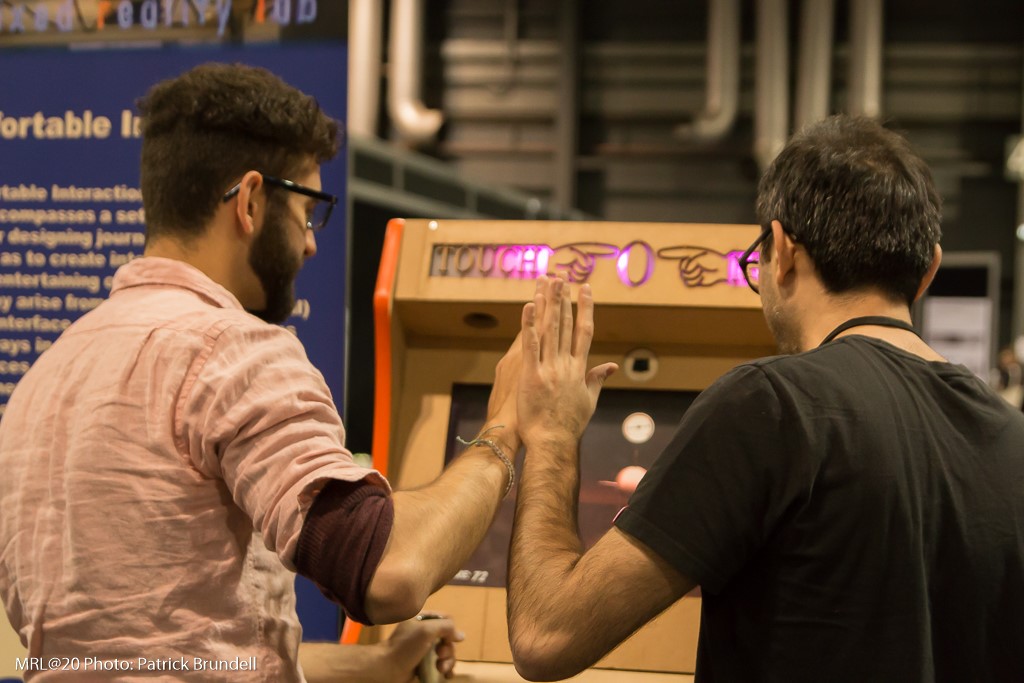 In the two venues, people from different backgrounds came to try the above experiences: researchers from the field of human-computer interaction (HCI), employees of technology companies, people who don't work in technology-related fields, and people who accompanied attendees of the conference, from adults to children, all participated in the experiences.
People were interested not only in having the experience, but also in knowing more about the technological, creative, psychological, and other components of the creations. People wanted to know what technology was used and what happened in our minds that made it possible for the creation to integrate the virtual and physical. Given that people had different levels of expertise in the area, it was necessary to give explanations according to people's needs. In a nutshell, the response of a professor will differ from that of a child.
Overall, I found the exhibitions a challenging task. There were difficult moments when people were not satisfied with my answers, and I had to find other ways of explaining the mechanics of these VR experiences. I found it very useful to relate my explanation to common knowledge through metaphor and analogy that people could easily make a connection with them.
It was a very enriching experience given that I had the opportunity to talk about interactive experiences, VR, and motion sensing with people from different backgrounds. Those topics are very different from the area of research on which my PhD is focused, which is on design ethnography and smart products.
In general, the experience was very fulfilling. I had the opportunity to share my time exchanging ideas with people and engage in thought-provoking conversations. It has taught me valuable skills related to speaking about and explaining my research with a diverse audience. I consider some positive outcomes of my participation in these public engagement activities to be:
The opportunity to practice critical thinking and think about the relevance of our research for the real world
Improvement of communication skills, as we are accustomed to talking to an academic audience, and this kind of experience gives the opportunity to practice with a non-academics
Building confidence as we have to be prepared to answer all kinds of questions on the spot and without prior preparation
Personal satisfaction from sharing with society part of the research that we conduct in the confined spaces of the lab
I hope that shortly we are able to take part in such open and diverse environments again.