Post by Abigail Fowler (2016 Cohort)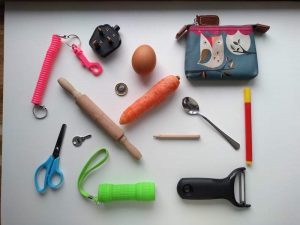 STEM "My Journey to a PhD" Talk, February 2019
I joined a Science Technology Engineering and Mathematics (STEM) event at Loughborough Grammar School. I was happy to join in when I heard they were running STEM events for secondary school boys and girls. On a rather wet and windy day, I headed to the event hoping the pupils would enjoy my talk and have some interesting questions.
My talk covered My Journey to a PhD, my research, and a memory game to demonstrate working memory. The game involved seeing an image of items from around the home and kitchen for 10 seconds. Then having 10 seconds to write down as many items as they could remember. I took the items with me as a tactile version in case any blind or partially sighted pupils attended. Somewhat ironically I forgot to boil an egg to take with me to match the image, but improvised with an egg cup for the tactile version.
The talk went really well and the pupils loved the memory test. No one got all 14 items, and they all sighed when I put the image back up so they could see what they'd missed. The second test involved spotting what was missing from an image, and they all answered the moment the slide appeared. It was a simple but effective demonstration of how our ability to remember varies between tasks and this should be considered in design. I am glad I included a practical element as it is always great to get more interaction. The group had been hesitant to ask questions, so it was good to give them permission to get involved at the end of the talk.
My PhD is sponsored by the rail industry. It turned out that Network Rail provide funding for a STEM challenge. Pupils were eager to hear how they could work on projects of interest to Network Rail. I suggested they consider level crossings, and how to influence the behaviour of level crossing users, as this is an area of great interest to the rail industry.
During the day I got to hear some of the current ideas students had for their own STEM projects. These included how to detect when someone is having an allergic reaction to food and designing a water filtration system to provide drinking water. I was really impressed with the range of projects and their innovation.
I talked to the teacher afterwards, and they will be coordinating STEM events in the future across the region to raise awareness with pupils of opportunities and future careers in STEM. I welcome this programme, and the links that can be built between schools and universities to support pupils in their further education of STEM subjects.
—Originally posted at