Richard Ramchurn (2015 cohort) won the EPSRC "Telling Tales of Engagement" 2018 Award. This is the second year running that Richard has secured this award which will give up to £10,000 of funding to maximise the reach and impact of his research. The "Telling Tales of Engagement" 2017 Award funded Richard's mobile touring cinema which travelled the UK in 2018 and 2019.
---
Post by Richard Ramchurn (2015 Cohort)
The MOMENT is a brain controlled film which has been touring since 2018. It has been primarily screened in a converted cinema caravan which has allowed it to travel outside of the cinema circuit. 
The research project adopts a performance-led research in the wild methodology, through which impact though public performance is an inherent factor – the default practice behind this methodology is that real-world artefacts are professionally made, and performed for the public, as the mode of studying their design and implications.
The MOMENT has had over 300 public screenings across the world, at FACT, Lakeside Arts, Sheffield DOC/FEST, Ars Electronica, Kendal Calling, Blue Dot, Arts By The Sea, Leeds, Geneva and Reykjavik International Film Festivals, and Aesthetica. We were also invited to  international events: SPARK British Council event in Hong Kong, Brain Film Festival in Barcelona; Riverside Film Festival in Padua. Substantial work has been made to make the touring of the caravan self-sustainable and there are plans to further exhibit throughout 2019.
I have been invited to present my research and engage in panel discussions with the film and computer game industry at: Creative England's Proconnect conference; Continue Conference; Picturehouse London with B3 Media; Broadway Cinema Nottingham; Geneva and Reykjavik International Film Festival; Sheffield DOC/FEST and FACT Liverpool. Organisations and individuals have since contacted me to ask to work on upcoming projects, to collaborate, and screen the film at their festivals.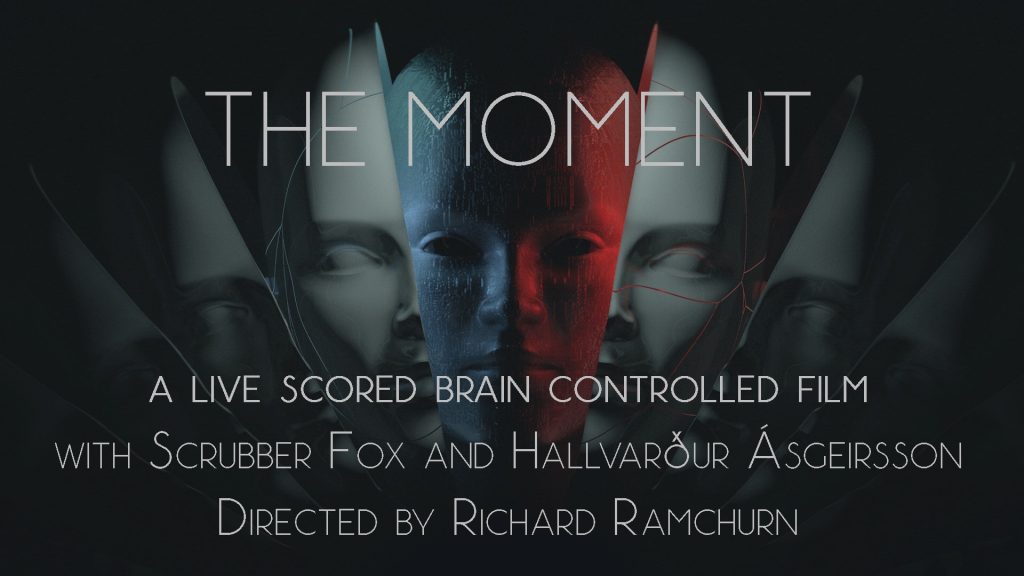 The project has now secured funding to screen Live Score performances in 2020. In these performances musicians Hallvarður Ásgeirsson and Scrubber Fox perform the score to The MOMENT as the film is created live from the brain data of an audience member.  The performances are followed by a Q and A with the musicians and myself. We previewed the Live Score in Reykjavík and Nottingham last year to engaged audiences. We are now planning a UK tour for the summer of 2020.
A live score accompaniment for an interactive film is an unique, timely, and relevant proposition, capable of capturing both the public's imagination and commercial interest. Our tour offers an alternative engagement proposition: creative, interactive live performances that large audiences can experience collectively at local arts venues. This model fits with the  industries move towards marketing cinema as a live experience, both through streaming theatre and music performances to screening venues (e.g. NT Live), and by creating immersive environments in which screenings take place (e.g. Secret Cinema).
The Live Score has the potential to reach larger audiences, including both a wider film industry audience, and members of the public who may not usually engage in academic research. The performances are set to be an exciting and dynamic way to share my research.