This past May, 28 PhD students from three CDTs based at Imperial, Cambridge and Nottingham participated in a creativity sandpit.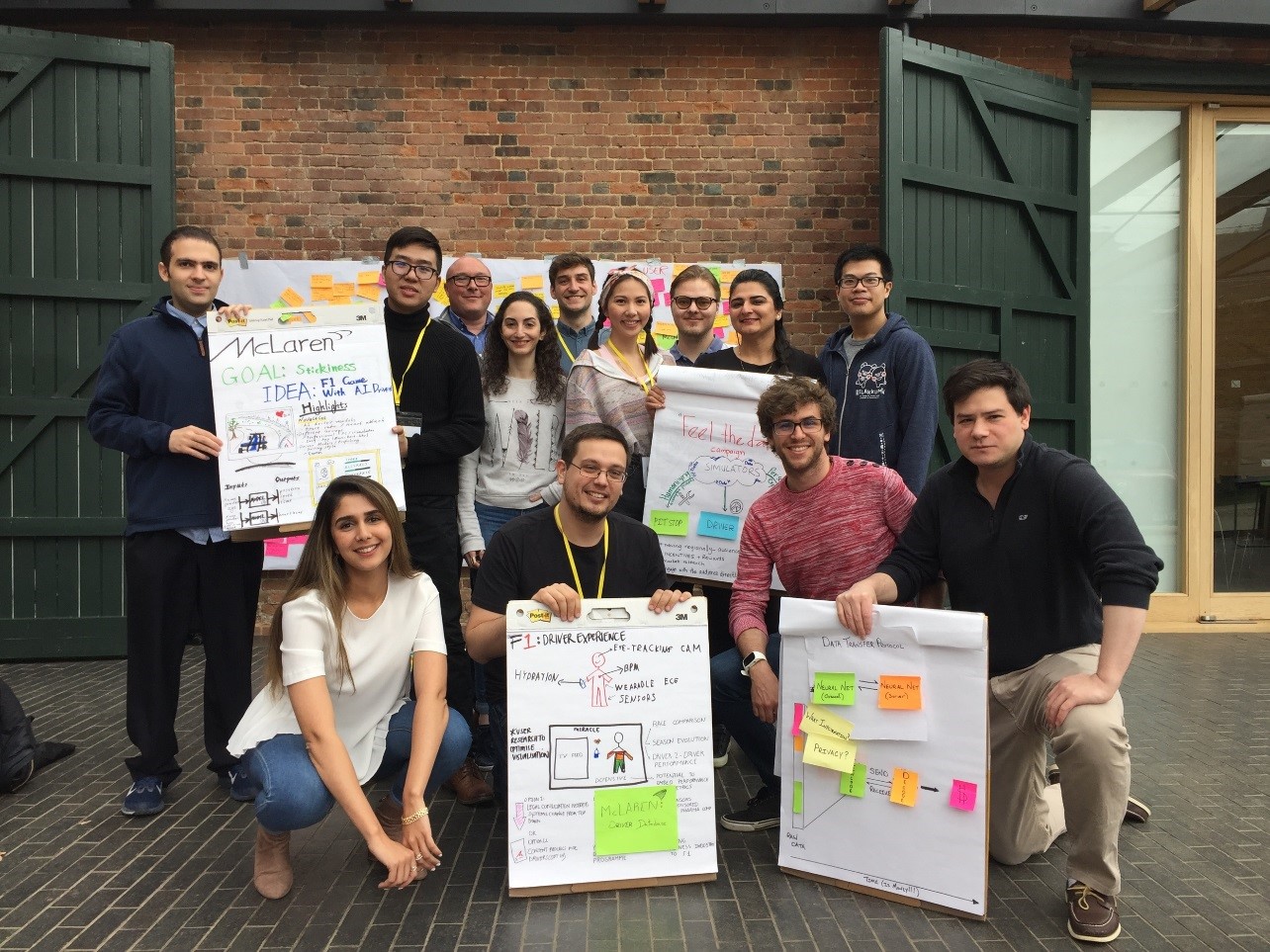 Post by Natalie Leesakul and Shazmin Majid (2018 Cohort)
One of the perks of being Horizon CDT students is the connection with the network of centres for doctoral training led by the Engineering and Physical Sciences Research Council (EPSRC). Through this connection, Shazmin and I took part in a 3-day creativity sandpit workshop organized by Imperial HiPEDS in collaboration with Nottingham Horizon and Cambridge Sensors CDTs. This workshop was quite a unique summer school experience as it was designed for the students to work in a multidisciplinary environment to solve real world industry based problems using the Creative Problem Solving (CPS) framework to help generate innovative ideas. Industry professionals from companies such as a Formula 1 racing team were also in attendance.
On the first day, the workshop started off with various ice-breaking activities, providing the space for the students and industry professionals to get familiarized with each other and learn about others' backgrounds. Fortunately, as part of Horizon CDT training, we are prepared to do an elevator speech on the spot; hence, giving a quick snapshot of our PhD research was not too difficult. However, the challenging part was discussing the research in more detail with others who have very different backgrounds and skillsets. While Shazmin and I have a background in Psychology and Law respectively, majority of the students are engineers and computer scientists. It was certainly refreshing to hear from a different perspective. Some of the questions and suggestions we got were something that we have not thought of before. Certainly, one of the crucial skills that we have taken away from this experience is the ability to simplify our PhD projects into something that a mixed audience can understand while maintaining engagement in the discussion. This ability to simplify our work in the wild helped us to connect with our own work and really hone in what we are trying to achieve in terms of aims and objectives.
On the second day, after the ice-breaking activities, we went on to learn about CPS and how it can be applied to different projects from the industry to academic research projects. This framework comes in quite handy for doctoral students as our aim is to find the research gap and produce innovative and original ideas to that field of research. This framework is applicable throughout the whole PhD, from the time when we have writer's block to the time when we have a lot of ideas and not knowing what to focus on. CPS can help in generating the innovative ideas and also eliminating the 'not-so-good' ones; it introduces 4 stages of idea developing: clarify, ideate, develop, and implement. During this activity, we were encouraged to discuss with others and to think about our preferences in the process based on our skills. Following the CPS group work, the next activity was to form a team and explore the real-world challenges provided by the industry ranging from Formula 1 racing to drone solution to ad-tech. This was when we needed to put the learned skills together – maintaining a good rapport in a team consisting of people from different backgrounds and applying the CPS framework.
Natalie's Experience
For the second day activity, I chose a Formula 1 (F1) racing challenge on how to best make use of the existing data in order to gain more fan base. The problem we received was that F1 fan base started to become stagnant, if not declining. Hence, the goal of this challenge was how to attract the new demographics while maintaining the current fan base.
In term of applying the CPS framework to the sandpit challenge, I've learned that the stage of clarifying and ideating was my strongest suit. Coming from the business and law background, I'm very comfortable with unpacking the problem, identifying facts, and generating solutions at the abstract level. In contrast, developing technical solution is not part of my practice. Hence, when forming a group to work on the challenge, I looked for others who had the technical expertise. As mentioned before, working in a multidisciplinary team was certainly a challenge on its own. My team consisted of 5 people – our team dynamic ranged from law to marketing to engineering. Certainly, we had a significant competitive advantage over the other teams given the number of people we had on the team and the wide range of expertise. However, the brainstorming session got very messy and unorganized which was problematic as we had to work in a limited amount of time. We started off with shouting out different ideas. Then, we had to choose the most promising idea to further develop which we struggled with quite a bit at this stage.
Thus, this was when we applied the CPS framework. We revisited the challenge objective to truly understand what was the problem we were trying to solve. From that, we looked at the ideas and started crossing out the ones that did not quite answer the question. Once we narrowed down the ideas to a few that we liked, we took on the big picture approach by bringing different ideas under one main solution – starting a promotional campaign for industry wide with the particular racing team as the major driver of the campaign. We arrived to "Feel the data" campaign which was designed to introduce F1 to a new market segment by playing on the FOMO (fear of missing out) trend. We wanted to create the hype around F1 so the idea was to organize a pop-up event at major attraction in the city and then rotate the event to different cities after a few weeks. The pop-up site would include various activities such as driving simulator, pit stop tire changing, and impersonation of driver's personal engineer. The activities would be designed based on the data of the drivers and their teams in order to create more immersive experience and also incentivize the diehard fans to join the event given that they would gain more insights into their favourite teams and drivers. There would also be a rewards app for the fans to collect points from visiting different sites to win freebies and to vote for the next location of the pop-up site. We hoped this campaign would increase the fan base as it would expose F1 sport to the new demographics and help the crowd understand this sport better.
I found the creative sandpit challenge quite similar to the PhD journey in a nutshell. First, I needed to understand the problem and the root cause of it. Second, I had to explore various solutions in order to find the most optimal one. Third, it was all about how to convey the findings to a wide range of audience. Similarly, a PhD is about understanding the problem, filling in the knowledge gap, and convincing the community of why this project is worth pursuing. At Horizon, we are trained to go broad and expand our research objectives then strategically narrow down the scope to the specific. With that, the ultimate goal is to provide creative and innovative approach to tackle the challenge – just like the industry R&D projects!
Shazmin's experience
As part of the challenge we received a short brief on the types of data that the racing team were able to show viewers which ranged from car algorithmic outputs to physiological measures of the driver. However, the company were reluctant to deliberate further about the physiological measures of the driver based on the ethical and legal challenges of showing this data on air. After the brief, all members of the summer school were asked to choose the industry challenge they wanted to tackle and then further split into specific teams which tackled the problem from a specific angle. Naturally, as my PhD looks into health markers, I gravitated towards exploring driver physiological data. We ended up being a small team of three, one other student who also had a background in health markers and another more traditional computer science PhD student.
We had half a day to explore the problem with the ability to ask F1 representatives questions, with the plan to pitch our idea to industry specialists in the morning the next day. We brainstormed our ideas using post-it notes and jointly decided which ideas were most feasible. We came to the decision that showing the following types of physiological metrics of the driver could be of interest to fans: heat levels, hydration, and heart rate. We were told that showing specific metrics would result in an ethical and legal problem so instead of showing specific numbers, we thought we could visually show the data in a less identifiable way. For example for hydration levels, we could have an icon of a water bottle with a categorical (potentially 3 categories) indicator of level of fullness. The company showed interest in our initial idea, especially the Director of Engineering who further formulated that our idea could potentially fit into a database that they are trying to make progress with specifically targeted at the Young Driver Programme. We developed our idea further with this information and prepared our pitch in the morning. The "quantified self" is a term that I learned during my PLP which describes the cultural phenomena of self-knowledge through technological self-tracking. Based on my knowledge of this, I was the one to open the pitch by describing this and asking the audience how many people were wearing some sort of wearable tracking device (a large proportion was!) to describe how we as a generation were gravitating towards becoming the quantified self and how our idea was following this trend.
We received very positive feedback from industry experts on our pitch. I have been in touch with the Director of Engineering since the summer school and hope to arrange a visit to the company in the near future.
Reflection on event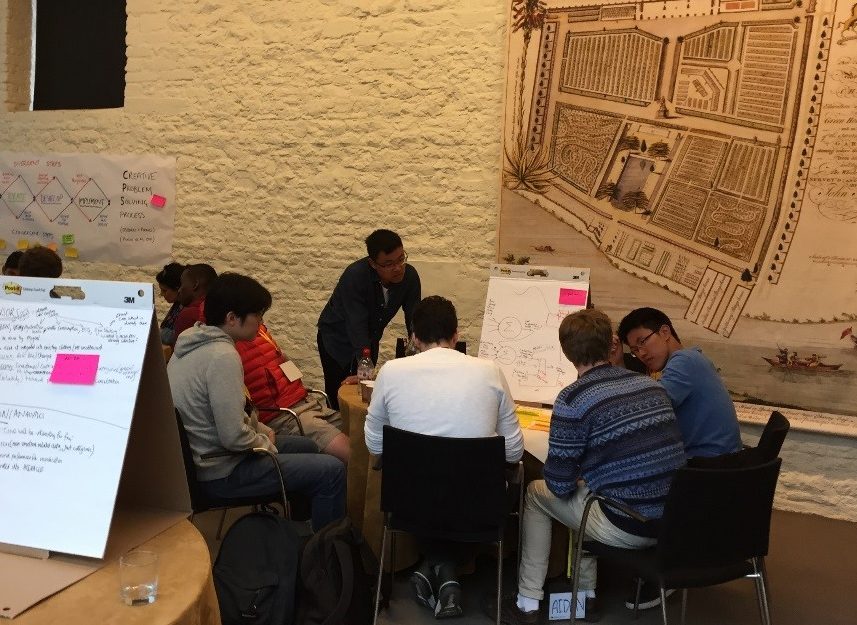 When we were practising how to use CPS, we had to critically reflect on our strengths and weaknesses. Our experiences of group work with Horizon helped us understanding our default behaviours, this allows us to improve ourselves and know what skills that we still lack of and how others can help us out. Because at the end of the day, even though a PhD may feel like a journey of one, in reality, we have a lot of support and it is important to know who and when we should ask for the support. Thus, when forming a team, we were encouraged to look for those who had the skills that we lack to ensure that the team consisted of various skill sets so that everyone had a unique contribution to the team. It was a little stressful at first as we only had the afternoon and the next morning to complete the assignment before presenting it to the industry. Although we were able to generate a lot of ideas, we spent a decent amount of time dwelling on the initial ones that each one of us came up with. This was when the CPS played a big role in helping us filtering out different ideas in order to generate the most optimal solution as a team which we could then develop it further. We were under pressure, however, we had to learn how to work together and liaise with each other in spite of our differences in expertise. Building a good team was definitely a challenge on its own, but it was a very valuable experience. We, as multidisciplinary PhD students, are constantly working with people from different disciplines which it is not always easy. By having more practice working in a diverse team, we have learned to better clarify and communicate our ideas which we can continue to apply throughout our doctoral process.
Last but not least, one of the unplanned bonding activities we (both the students and people from the industry) did together was chasing down the peacocks for pictures – good times!