Rebecca Gibson (2019 cohort) is currently recruiting for the Nostalgic Gifting study: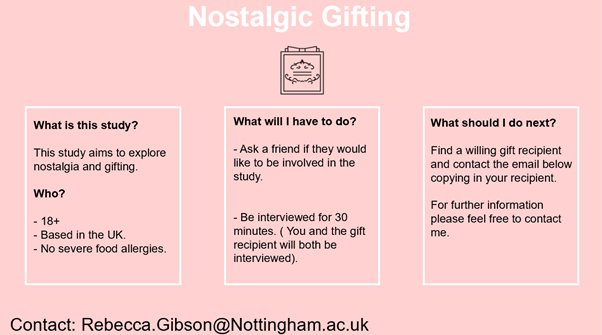 What is the study for? 
We are interested in exploring nostalgia within hybrid gift-giving. Hybrid gifting in this case is a physical gift which includes a digital aspect. We are looking to recruit pairs of participants, with one participant being the gift-giver and one being the recipient.  
What would I have to do?
Gift-giver  
Create a gift online. 
Upload a photograph to accompany your gift.  
Take part in a 30-minute interview.  
Reflect upon your experience.

Recipient  
Receive a gift! 
Take part in a 30-minute interview.  
Reflect upon your experiences.

How? 

The study is entirely online.  
Gift-givers will use a website to create the gift. 
Photographs will be attached digitally to the gift.  
Gifts will be posted to recipient's home address.
Who?  
18 years or over. 
You do not have any severe food allergies or dietary requirements.  
You own a smart phone and have access to the internet. 
You are based in the UK. 
What do I get? 
Gift-givers get to create a gift for loved one! 
Recipient will get to receive a gift.  
Contribution to an emerging gifting paradigm.  
Process Overview  
Send the person you wish to give a gift to this information/ask them to see if they would be interested. 
If yes, then email Rebecca making sure to copy your selected recipient in.  
The recipient will then be sent a screening form to check for any allergies and to ensure they are safe to receive post. 
If they pass the screening form and you are both happy to take part in the study then you will be sent consent forms.  
The recipient will then provide us with shipping details. 
The gift-giver will then receive a link to create the gift online. 
The gift will then be shipped to the recipient.  
The gift will arrive!
The gift-giver will be interviewed. 
The recipient will be interviewed.  
Contact  
If you have any questions about the study, please contact: 
Rebecca.gibson@nottingham.ac.uk