post by Charlotte Lenton (2020 cohort)
The Possibilities Were Endless
The industry partner for my PhD is the Rail Safety and Standards Board (RSSB) which is a member-based organisation working with organisations throughout the rail industry to improve railways in the UK. RSSB has vast connections with industry organisations throughout the sector which meant I could have pretty much undertaken any rail-related role in a whole host of companies to get first-hand experience of what it's like to work in rail. So why did I decide to stick to an office-based position within RSSB?
In December 2020, the small but excellent, Horizon Scanning team of two at RSSB kindly came along to an online event that I organised with other members of the CDT to talk about their work and techniques used in horizon scanning. This presentation was well received by my colleagues and left me wanting to know more about how this technique works in practice, as well as how the outcomes benefit organisations within the rail sector. It was quite opportune that the team would be starting to do some horizon scanning work as part of the Rail Technical Strategy (RTS) refresh in the summer of 2021 which was around the time that I would be starting my placement. The RTS was the main industry document which helped to shape my PhD proposal throughout Year One of my studies. Following the initial training I was allocated as the lead student analysis for the RTS 'Easy-to-Use' horizon scanning work.
Horizon Scanning: Thinking the Unthinkable
Very few people are excited by the prospect of change, especially when the potential changes and their impact are largely unknown. As a horizon scanning analysis my job was to think about changes and the various implications that these could have on the rail sector. I was to explore the horizon for early signs of potential changes, collate information about these emergent changes, and think about how these changes could make a difference to the industry. In this sense, I was to think about the unthinkable and process this information in a way that would be helpful for managers to begin to anticipate the future.
Taking the RTS roadmap for the Easy-to-Use priority as a starting point, I began to search the internet for key terms relating to the different topics. Anything I found that I thought was an indication of something new, a change, a confirmation or just background information on one of the topics, I logged in an online spreadsheet. Each data point collected was then reviewed on a weekly basis at a sensemaking meeting where I discussed the recorded items with the horizon scanning principal. This was a useful exercise for us both as it helped him to get an idea of the types of things that I was finding during the scanning process, but it also helped me to justify my reasoning for logging the data points depending on their categorisation.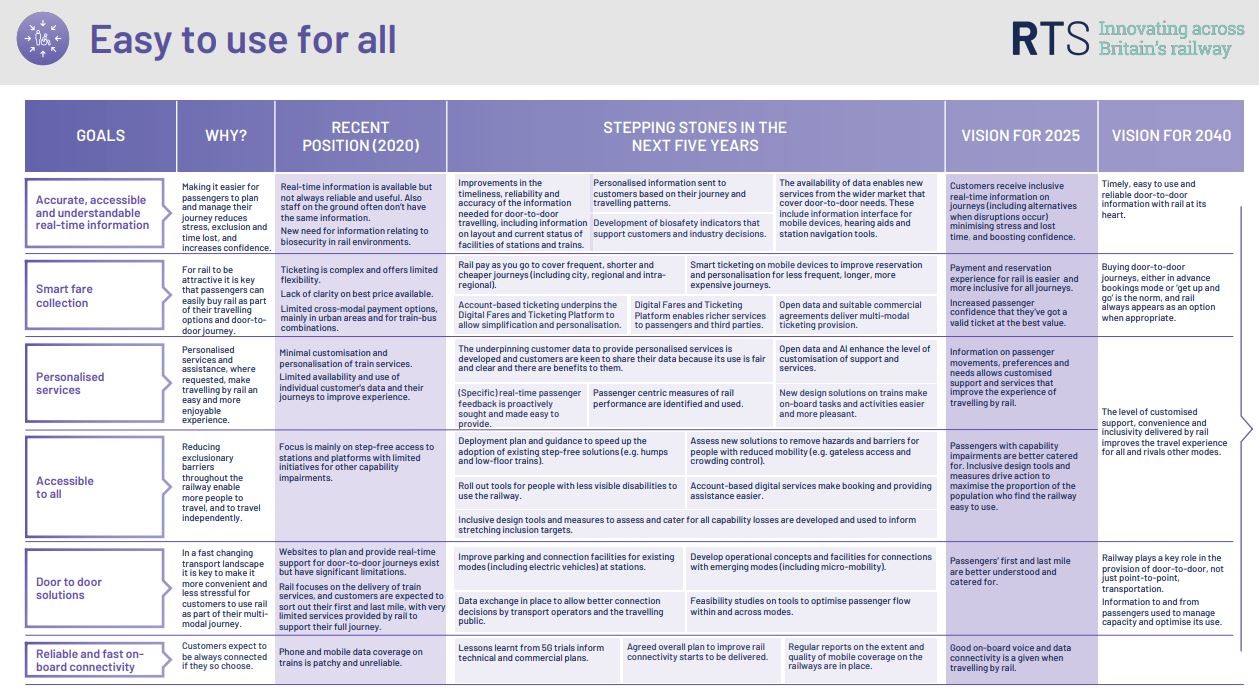 The Rules: There Are No Rules
Unlike academic research, the validity of the information source was not subject to much, if any, scrutiny providing it was an indication of a novel idea or potential change. The example that was used during training, which will always stick in my mind, was that an idea expressed in a blog post by a man sitting in his living room at 2am in Lagos should not be discounted just because of the source if the idea is an indication of a potential change on the horizon. Other sources with similar ideas may be found further down the line which validate or reject the ideas posted by this late-night blogger. So, for the purposes of information gathering even this type of blog post should be logged in the database alongside sources such as academic journals, newspaper articles, books, and television programmes.
Adapting to this unrestrictive method for capturing information and knowledge was a particular challenge for me as it went against everything I have been taught to do as part of my academic training. I was so accustomed to only using and trusting sources that are deemed valid by the academic community that I found it hard to log sources that felt 'invalid' as they were merely the opinion of one person in a blog that only a few people have read. This led me back to thinking about a module I had previously completed as part of my Masters in Gender Studies. In this module we discussed the inequalities that exist within the production and sharing of knowledge because of how the academic world is geared towards only listening to voices that have been validated and verified by our peers. Why do the comments of a professor from a top UK university matter more to the academic community than the words of a Black Feminist activist talking about her first-hand experiences of racial and gender discrimination? Whilst I am not suggesting that the academic community should start referencing every other person that posts their thoughts and opinions online, perhaps we, as academics, should begin to take a more flexible approach like the techniques of horizon scanning in our search for knowledge to gain a better understanding of the world outside of the four walls of academia.
Writing For a Different Audience
Towards the end of the placement, I was asked to start writing a report to be disseminated throughout the rail sector which highlights some key areas for potential change in the future. Unlike writing for a university assessment or an academic paper, this type of reporting needed to short and snappy whilst consolidating the evidence from many data points found during the scanning phases. In one sense it was quite like writing for social media where you must get your point across in as few characters as possible whilst still making an impact on your audience with a statement about how these potential changes could impact their work or service.
I think this type of writing is just as important as writing for journals and books for academics as social media can be used as a vehicle for disseminating research beyond the fourth wall and into the public domain in a more familiar and understandable way. I am not suggesting that we should all start doing Tik Tok dance videos to disseminate our research, but it does seem that social media remains an underutilised platform for communication with wider audiences. It is also only recently that I have started seeing webinars and training sessions being offered through the university to train PGR on how to communicate their research through social media. Needless to say, I will be booking myself on to one of the sessions imminently!
Broadening My Horizons
Overall, I feel that the placement with RSSB has given me excellent first-hand experience of what it is like to work within a busy team of researchers in an industry setting. I have been encouraged to think outside of the box and change my perspective in terms of what is considered 'valid' knowledge. The practical experience of using Horizon Scanning techniques and writing for different audiences has also improved my transferable skills available to me throughout and at the completion of my PhD.
I cannot thank Guy, Sharon, Mel, and the team enough for welcoming me into the world of R&D at RSSB with open arms and treating me to such a valuable set of experiences throughout my placement.