post by Matthew Yates (2018 cohort)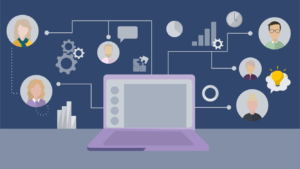 In October 2021 I gave a presentation on my PhD project at Dstl's AI Fest 4. This is a now annual event held by Dstl and attended by various government departments, industry partners and academic researchers. The event was held online over a virtual conference meetings platform with over 100 different talks from AI experts over the course of two days.
The central aim of the event was to discuss topics surrounding "Trustworthy AI" with Dstl stating their mission is "to de-mystify the area of AI by helping MOD understand how it can responsibly and ethically adopt AI in order to deter and de-escalate conflict, save lives and reduce harm." Like other virtual conferences that become the norm during the pandemic there were different panels where attendees could interact with the speakers during Q&As as well as various networking rooms to talk to others about research.
I presented my work as part of the "AI Methods and Models" panel, with my then-current working title for my PhD and presentation being "Accurate Detection Methods for Image Synthesis". As I had done multiple previous presentations for my PhD at various stages of the project I knew the content quite well but made some adjustments for my specific audience and what I wanted to focus on as the key message of my work. As I was presenting a work in progress, with still a year of research to go, I decided it would be best that I focus on the importance of the interdisciplinary methodologies I was using for my project rather than any final models or results (which I was still currently working on). I also thought it might help differentiate mine from the rest of the panel which was concerned with various novel implementations of machine learning models.
In my presentation, I gave a brief overview of myself and my project's background as well as a short explanation of Generative Adversarial Networks for those in the audience who were less familiar with deep learning models. The main content of my presentation however was my mixed methods approach to looking at fake image detection. I explained how as the objective of a lot of fake image generation is to fool human visual perception (e.g. fake news, deep fakes etc) taking a human-centric approach to investigating novel detection methods is equally, if not more important, than looking at purely algorithmic solutions. I then presented the results of my initial image detection study which found differences in detection behaviour between computational and human detection methods as well as differences between experts and novices. As this was the part of my research plan I was currently up to, I spent the rest of the presentation discussing the implications for my current results and how they were going to inform the rest of my work. At the end of the presentation, I took a short Q&A with questions about possible other metrics I could use to measure human visual perception towards image detection like eye tracking and also how to combine this research with automated methods. Both of these questions were easy for me to answer as fortunately they were both ideas that I had planned to explore myself at the final stage of my research.
On reflection, I thought I had gotten my main points across in an engaging way and had been able to communicate it to people of differing levels of technical backgrounds, however, with it being held online it was much more difficult to get a sense of this than if I had been presenting face to face. Although presenting to a screen can sometimes alleviate any nerves in presenting to a large, live audience, I find it can also be quite hard when you don't have any visual feedback from audience members present.
Despite some of the reservations I still have towards online conferences I did find my experience presenting at Dstl's AI Fest useful. In addition to the experience of having to communicate my research to a live audience, it was also a useful opportunity to get to know other people either at Dstl or in industry. The timing of the event coincided with my 3-month Dstl internship so some of the people I was working with at the time also attended the conference and could get an idea of what kind of work I was doing at Horizon and the Computer Vision Lab for my PhD project.