post by Daniel Swann (2021 cohort)
Introduction
As part of my PhD project at the Horizon Centre for Doctoral Training, I underwent a placement throughout the summer of 2022 with my industry partner Makers of Imaginary Worlds (MOIW)—an arts company that designs interactive installations for young children and families. Interestingly, the company was founded by Horizon CDT alumnus Roma Patel (2013 cohort) and many of its ongoing projects have grown from her own doctoral research. As such, the three months I spent working alongside MOIW offered an invaluable insight into how the central issue of my own PhD—that is, how children's playful experiences can inform interactive technologies—are engaged within the "real world."
As is typical within the creative industries, MOIW is a small company for whom no two working days are the same. Furthermore, by creating interactive art installations with innovative technological features, it engages regularly with a wide variety of stakeholders including cultural institutions, local families, and the research community. Fortunately, this meant that my placement involved a range of different activities, and I will share the main experiences from my time spent working with MOIW over the course of this blog post. Ultimately, I hope to identify some key takeaway points of how this experience has shaped my research which gesture towards how industry can productively engage with academia more generally.
TAS HUB All Hands Meeting
After settling in and getting acquainted with the team at MOIW, one of the first major events on the agenda was presenting at the annual Trustworthy Autonomous Systems (TAS) All Hands Meeting in London. The TAS Hub is a UKRI-funded project which aims to encourage collaboration and world-class research into autonomous systems around six main nodes: functionality, governance and regulation, resilience, security, trust, and verifiability. While this covers a vast range of activities involving everyone from senior academics to policymakers, the TAS Hub also works with "artists, musicians, directors, writers, and performers" as part of its Creative Strand to express its research aims in a way that is more accessible to the public.
The All Hands Meeting is an opportunity for all those working under the TAS umbrella to share their projects and, as such, I joined MOIW to present their artistic residency as part of the 2022 TAS programme. This was centred around the installation NED: the Never-Ending Dancer. NED is a robotic arm that has been programmed to dance with children who engage with it through movement and face recognition technology. It was previously part of a larger installation called Thingamabobas but was isolated for a pilot study in April 2022 in which we attempted to understand how children understand and engage with a robot that is behaving in a playful way. More details of this study as part of the TAS artistic residency can be found on the MOIW website.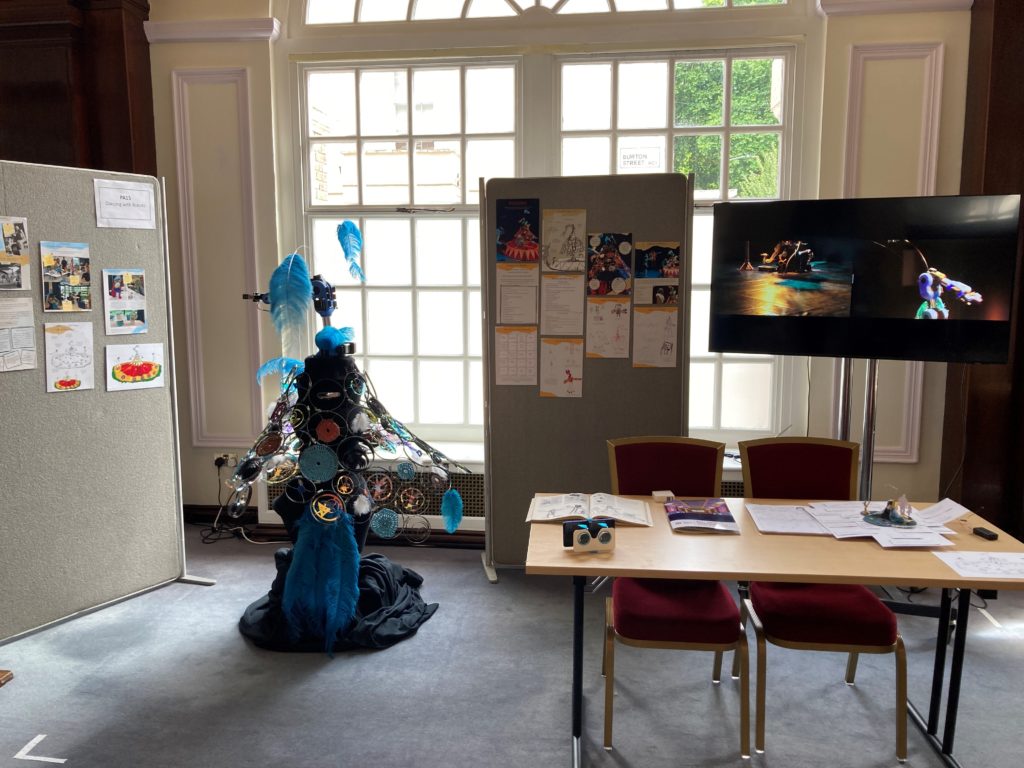 While representing MOIW with NED beside me in the live exhibition space, I received a lot of interest in the project—particularly from researchers who were working in areas that had little to do with children or the arts. Some of the conversations that occurred, as a result, justified the TAS Hub's claim that creative applications can often open the space for dialogue better than research or technology alone can. It also provided me with valuable experience in presenting studies that I'm involved with to an entirely new audience.
Alongside the live exhibition space, the All Hands Meeting also featured talks and panel discussions from a number of academics working on TAS projects. I ended the two-day event by attending the TAS Programme Early Career Researcher dinner, which offered a great opportunity to network with fellow PGRs and learn more about how they are engaging with the various nodes that contribute towards the TAS Hub.
Home:Zero Study
The next major phase of my placement was involving the HOME-Zero project. HOME-Zero is "a creative research and development project to help ignite a public conversation about the relationship between household emissions and climate change." Makers of Imaginary Worlds were commissioned for this project and produced an original interactive installation in collaboration with Lakeside Arts and the Mixed Reality Lab at the University of Nottingham and through a series of co-design sessions involving young families from the local area that took place over several weeks. The installation was exhibited at the National Gallery X studio and Lakeside Arts in May 2022, but an additional exhibition was organised for Strelley Road Library during my placement towards the end of July.
The set-up of the installation itself proved challenging and was therefore a valuable insight into the practicalities of producing interactive experiences that are suitable for a wide variety of contexts. The installation was designed for use in gallery or theatre spaces and had to be adapted to the library, including alterations to the functionality of certain elements and impromptu repurposing of others. There were logistical difficulties also: some of the technology included in the installation required support from various collaborators and getting in touch with them when needed in the short window of time provided for set-up proved challenging. We recognised that it would have been useful to have a detailed technical documentation for the installation beforehand. However, the unique way in which HOME-Zero was (co-)created meant that there were limited resources (namely, time) for producing such documentation.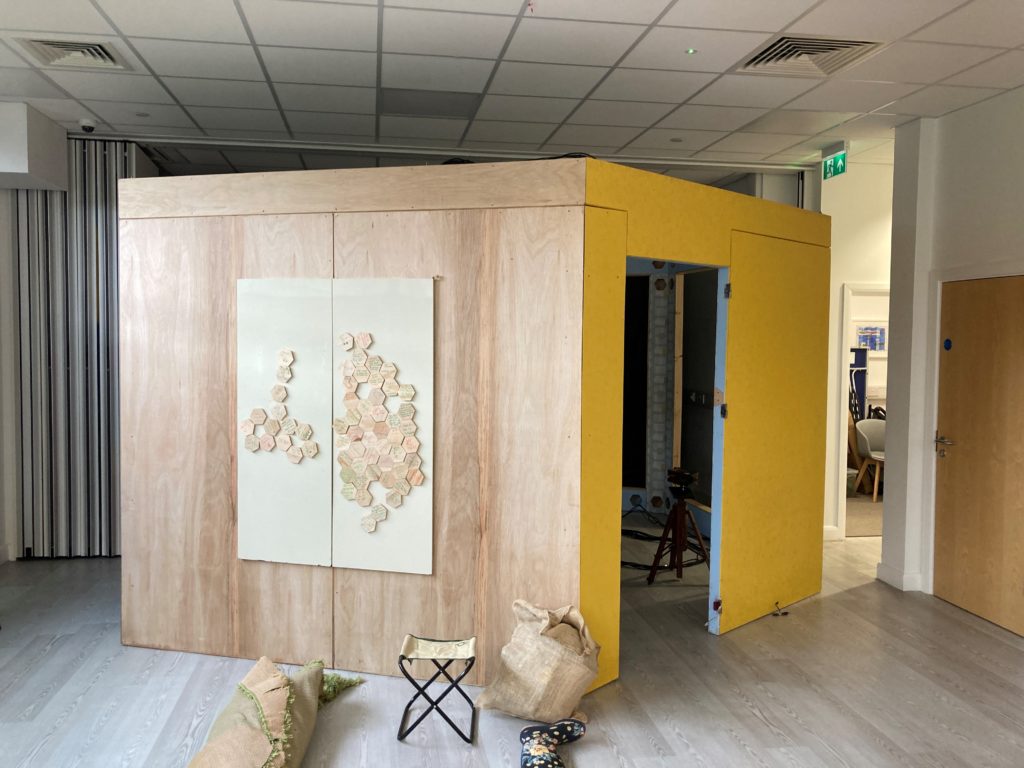 Despite the difficulties of reproducing the HOME-Zero experience at a public library, the response proved it was more than worthwhile. Families from the local area were able to enjoy this experience—complete with interactive technological features and an engaging actor/facilitator—and begin intergenerational conversations around sustainability and household consumption. Along with the overwhelmingly positive response, I was able to conduct interviews with some of the families involved in the co-design process of HOME-Zero who offered unique perspectives on the installation that are likely to contribute to a future publication.
Theatre Hullabaloo and The Undiscovered Island
Beyond the smaller and more miscellaneous tasks involved with the placement, the final major project involved taking MOIW's The Undiscovered Island installation to Theatre Hullabaloo. This venue, based in Darlington, is innovative for providing a space dedicated to theatre for younger audiences. Although The Undiscovered Island is one of MOIW's most toured installations, it required some preparation before going to the theatre to be in exhibition for 6 months in total!
The Undiscovered Island is an immersive experience for young children to learn about the ecological challenges faced by coral reefs through several different interactive technologies. Some of the artefacts included in the exhibition had been developed from prototypes and were therefore identified as needing minor repairs and reinforcement. For a few weeks in August, I occupied a bay in the Mixed Reality Lab to work on some of the artefacts, which mainly involved resoldering, swapping out components, and stress-testing to try to reproduce 6 months of interactions and to ensure that all the artefacts were safe for small children to use. Although not all the repairs were straightforward, I was fortunate to have help from colleagues at MOIW and other researchers working in the Mixed Reality Lab who were happy (or at least willing) to help! With everything ready to go, myself and the MOIW team set off for Darlington to spend a week getting The Undiscovered Island ready.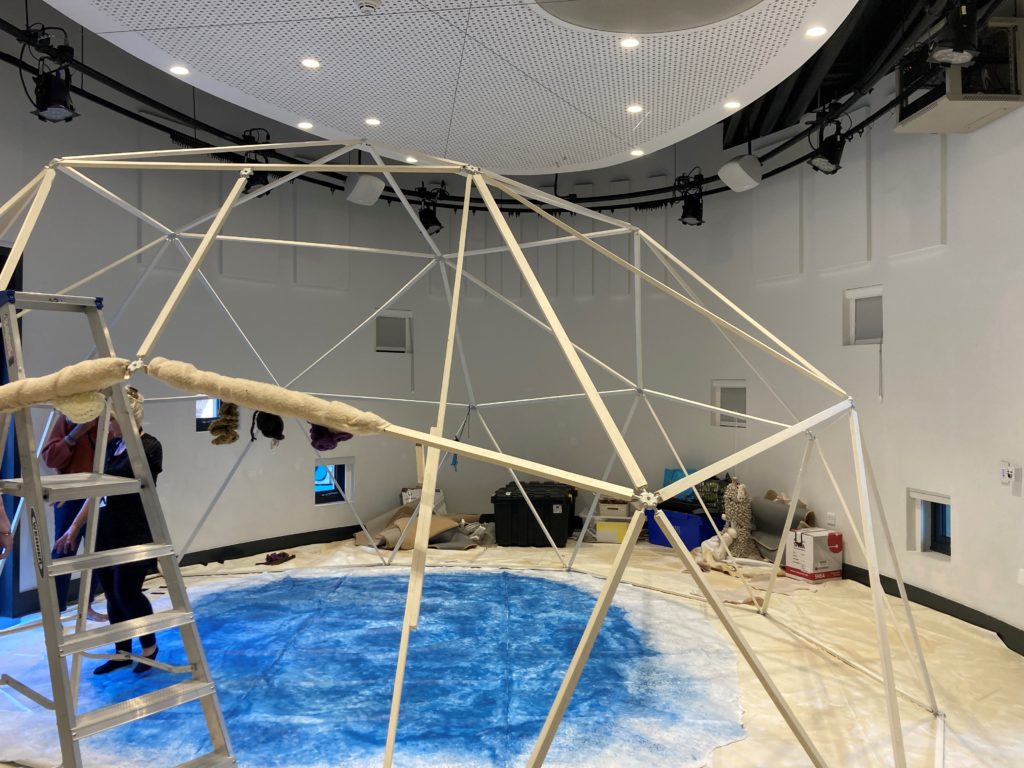 The set-up itself went well and it was a pleasure to work with friendly colleagues from both MOIW and Theatre Hullabaloo, which truly does fantastic work for the communities it serves. Like at Strelley Road Library, we had to make some decisions on how best to adapt the installation to the space but within a few days, we had everything up and running and ready to open by mid-September. In contrast to my experience at the TAS All Hands Meeting, my time working in Darlington was characterised by collaborating with individuals who were vastly experienced in many aspects of my research although from a largely non-academic perspective. I found this to be particularly beneficial as I could learn more about the concerns of important stakeholders in my research—namely young families and arts practitioners—in an organic and meaningful way. On a more practical level, it also allowed me to work with individuals and institutions with whom I may be able to collaborate further at some point in the future.
Conclusion
As the placement drew to an end and I made my transition back into being a full-time PhD student, I was able to reflect on how these months working with MOIW may inform my research going forward.
Seek opportunities to share research with the wider community. Some of the insights offered by researchers from ostensibly unrelated fields at the TAS All Hands Meeting were truly interesting and valuable. While it is obviously important to keep consistently in contact with one's own research community (the field of child-computer interaction, in my case), I believe taking opportunities to present in different contexts can produce surprising benefits.
Never underestimate the value of even the simplest documentation. In the case of HOME-Zero, it wasn't possible to produce thorough documentation for set-up due to time restrictions. Nevertheless, I learned that making notes along the way can result in massively improve efficiency later. I imagine this to be as true for setting up an installation as it is for writing a conference paper, for example.
Get into the field with your "researcher hat" only half-on. Conventional academic forms of gathering information from stakeholders—such as through interviews or focus groups—have their uses but also their limitations. Collaborating directly with someone who works in my field shed light on various issues that I hadn't previously considered and is the type of opportunity that an industry placement can uniquely offer.
Those who work in the arts and those who work with children often have unconventional working habits when compared with other industries. As a company that does both, this is certainly true for Makers of Imaginary Worlds! But this meant that my placement was a hugely valuable experience in allowing me a deeper understanding of the opportunities available beyond my doctoral studies, both in the sense of what may come after my PhD and the impact my research can be made outside of academia.