post by Angela Thornton (2019 cohort)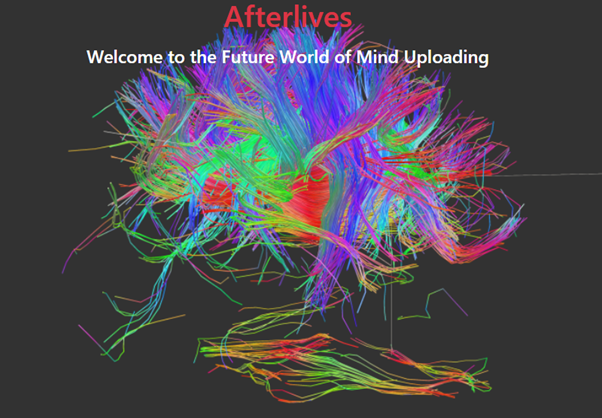 Welcome to the Future World of Mind Uploading – my novel method of engaging the public with the far future via a storytelling website designed by Tony Glover of DRT Software Ltd (https://www.drt-software.com/#/)
My earlier research generated some useful and interesting findings on reactions to the concept of mind uploading but it also confirmed just how challenging it is to research far-future concepts. Thankfully a combination of desk research, and chatting with my supervisors and various experts at Horizon prompted a solution.
I decided on a bespoke storytelling website – Afterlives – as a vehicle for transporting participants to a fictional far future world where mind uploading is a reality. Storytelling methods typically centre on individuals telling their own stories, but this wasn't an option since in 2023 no one has a story of their mind uploading…In addition, as always there were practical constraints such as time and budget. Hence I used existing media on mind uploading – having carefully checked out copyright laws – to explore key themes like identity, immortality, and humanity.
As well as collecting data on attitudes to mind uploading the website also collects data on how well it achieves the aim of transporting participants. While there is plenty of research on this in games, storytelling websites are under-researched. The most widely used construct in storytelling assessment is (narrative) transportation which is "cognitive and emotional immersion in a story, accompanied by vivid mental imagery" (Green, 2014). As well as capturing transportation data I also measure aspects of narrative engagement and identification as these contribute to a more detailed understanding of participants' reactions to the story. [Identification occurs when people are able to experience the narrative through the perspective of a story character (Green, 2014, 2021). Engagement is a broader concept and allows me to study specific dimensions of the experience including understanding, attentional focus, emotional engagement, and presence (Busselle & Bilandzic, 2009)].
I've been collaborating with 12 participants since 2020 and together we have been on a journey towards mind uploading culminating in the website experience. I'm delighted to say initial findings are positive and thanks to a small impact grant from Horizon CDT, 43 new participants recently experienced the website. I've just finished collecting this data and interim analysis indicates that the website meets its objectives.
First, it raises awareness of mind uploading with 91% claiming they are now more aware and second it does so in an engaging way – as one participant wrote "I enjoyed the experience of going through the thought processes and the moral dilemma of answering some of the questions and how the answers really made me feel.  Hopefully, the input was useful.  It certainly raises a multitude of interesting discussion points".
Early in 2024, I will be increasing the number and range of people engaging with the website to ensure underrepresented or underserved publics are included. This is made possible by a large impact grant from Horizon CDT. However this Autumn there will be a really exciting addition to the website story – watch this space for the official announcement.