post by Daniel Swann (2021 cohort)
In early June 2022, I attended a PhD summer school entitled 'Inquiry through making and playing with objects, spaces and situations.' The summer school lasted for three days and was organised by Design School Kolding, although was hosted by Aalborg University at their Copenhagen campus. I was looking forward to attending the summer school: I had identified play as an important theme to my research and was also engaging with theoretical approaches to design, particularly in the way that it can inform interaction. The summer school was not specifically focused on children and young people, but I felt this would be a positive as it may allow me to reengage with my research from a different perspective—which I understood as one of the main benefits of attending a summer school as a PhD student.
On the way to Copenhagen, I went over the provided list of reading resources which were curiously broad in scope. It included seminal texts from design theory, research papers from the field of Human-Computer Interaction, experimental autoethnography, and examples of futures studies (an area which was almost entirely new to me). As well as providing the reading list in advance, the organisers asked that each participant brought an object or image that somehow embodied the focus of our research. This provided the basis for introductory conversations with the group on day one of the summer school.
After we had done our introductions, the organisers each made a short presentation that established some of the key themes and ideas of the summer school. This included the many ways we can think about play, especially in the context of making, and a broad overview of design anthropology. These presentations were important as they allowed the group to share their initial interests, doubts, or queries in relation to the central themes of the summer school. Furthermore, it provided us all with a common vocabulary with which to identify the synergies and tensions between the theoretical framework(s) and the practical activities that took place over the following days.
The first day ended with a visit to the Play Lab at the National Museum of Denmark. This innovative laboratory at the heart of the museum is home to a small team that work on reimagining the relationship between the historical assets and the public in an inherently playful way. This was highly relevant to my own research, and I found their presentation and the subsequent discussion to be highly rewarding, as the Play Lab team were engaged in academic debates around playful experiences in cultural institutions as well as the practicalities of running events and exhibitions on a day-to-day basis.
Day two of the summer school represented a deeper dive into the themes as we explored how play can be thought of conceptually and applied to a variety of practical activities. The first topic was 'Atmospheres and Ambiances.' Two of the organisers had transformed the seminar room that we were using entirely by changing the layout of the furniture and introducing interactive artefacts, with different lighting and ambient music added also. We were invited to explore the space in silence as a group and then discussed how these changes had altered our perceptions of the atmosphere both individually and collectively. After this, we split up into small groups and explored the campus through our senses: one member of the group would provide prompts and the other would respond through a constant stream-of-consciousness.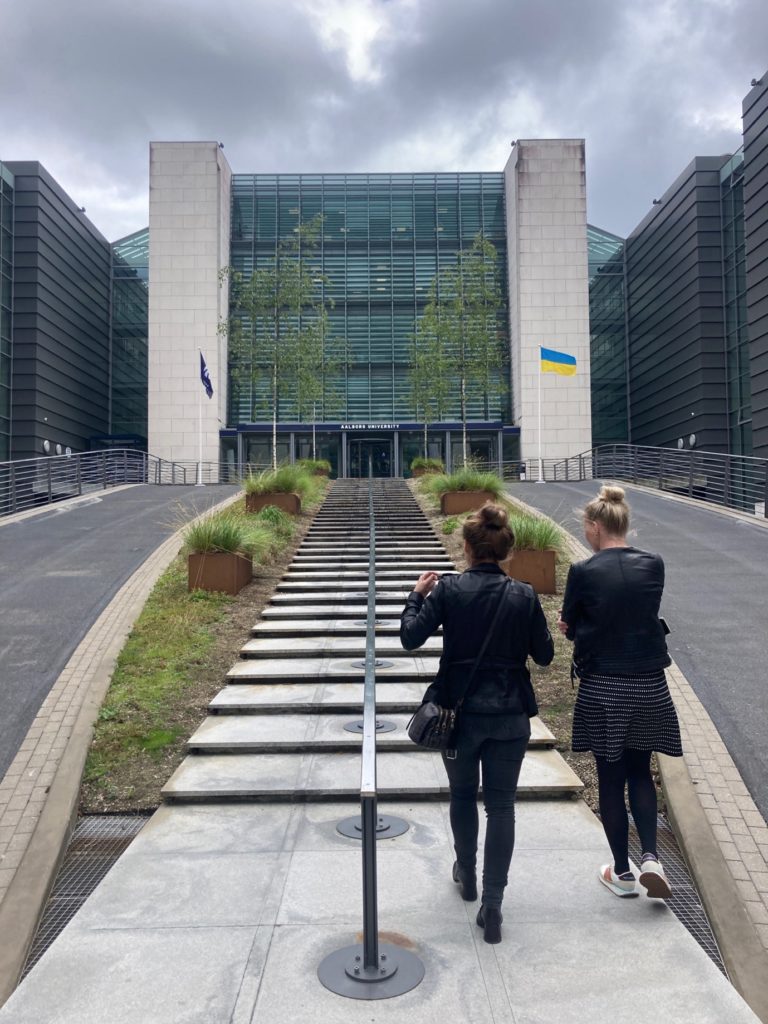 After playing with spaces, we then played with empirical data by writing down our experiences and then editing them in a collaborative, creative, and chaotic way. For example:
I remember becoming intrigued, inspired, interested in the elemental world, the spaces we inhabit, use, appropriate, play with
Jeg husker smagen af min farmors saftevand
Jeg husker følelsen af cykelshorts
​​I remember discussing new methods, new ways of thinking
I remember being told that I was going to have a sister.
This activity vividly brought to life many of the ideas discussed on the first day. In the following discussion, there was a general feeling that this playful approach to poetry had enabled an entirely different engagement with our memories than was otherwise possible. I found day two of the summer school to be sometimes challenging, and often I felt outside of my comfort zone, but it certainly provided me with many ways of thinking about the central themes of my doctoral research.
On the final day, we focused mainly on making and tinkering. This was particularly rewarding as it began as quite a simple creative task but evolved into an engaging activity that questioned how we can think about both space and time in playful ways. We ended by presenting back to the group as a whole and then discussing some of the emergent themes of the summer school in a round circle debate. It was interesting how the different backgrounds of the participants had influenced the discussions and produced original thoughts and ideas that were thoroughly interdisciplinary.
As I cycled back from the campus to central Copenhagen, I quite literally bumped into another participant who was going the same way. We decided to grab a drink and reflect on the summer school as a learning experience. Without a doubt, we enjoyed our time, particularly the fact that the PhD students came from a variety of backgrounds which ensured that our debates remained dynamic and multidisciplinary throughout. During our conversation, however, we noted that sometimes these debates produced interesting ideas that could not be fully explored due to the time pressures of the summer school.
On further reflection, I felt this was somewhat unfair as it seems to me that this is the very purpose of attending a summer school as a PhD student: to be challenged and leave with fresh ideas that one's research can attempt to resolve. My time in Denmark not only provided me with a new network of like-minded researchers, but also allowed me to reengage with my studies from a new playful perspective.