post by Peter Boyes (2018 cohort)
"The Pint of Science festival aims to deliver interesting and relevant talks on the latest science research in an accessible format to the public – mainly across bars, pubs, cafes and other public spaces. We want to provide a platform which allows people to discuss research with the people who carry it out and no prior knowledge of the subject is required."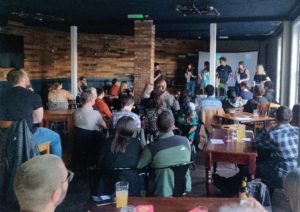 This was a new one for me, a collision of worlds. I've spent the last 8 years in Nottingham, studying for my undergraduate, master's, and now PhD. I did some extra bits with my course, PASS leader in its first year in the school of mathematics, and some events here and there as a PhD researcher, but I stick mostly to my studies and then explore volunteering in places beyond academia. I've enjoyed helping coordinate sports clubs and competitions since joining university, but Pint of Science arose as an opportunity to combine my two halves. Volunteering and putting on events related to my studying.
I got involved at first as a general body to lend a hand on a couple of the nights, but moved into a Theme Lead role early on in the year when an opening popped up. About 9 months ago myself and my team of fellow volunteers were allocated our theme (Beautiful Mind – anything around human senses and the brain) and we set about recruiting speakers and planning our event. We had 3 evenings at Bunkers Hill, Hockley to fill, and grouped our 9 speakers into similar topic areas. These topics covered broadly Pain, Senses, and Mental Health. We checked out the venue space, and planned out schedules for the nights, with presentations, Q&As, and some activities for the audience such as quizzes (what else do you expect on a weeknight in a pub when you're talking science). May flew round, and tickets got snapped up. The nights went fantastically, there was a buzz with the great speakers and the final night in particular packed out the venue space to end on a high note.
This side venture was a little outside my comfort zone, yes I'm familiar with volunteering and running events, and I've been in academia for 8 years, but the theme wasn't in my area of expertise and science outreach is a new experience for me. I was supported well throughout by a great team more familiar with the topics and events like this one. I've learned a lot about outreach through these nights. This was for me about learning how to facilitate public outreach and conveying cutting edge research and expert topics to the general public, no easy task. The most revealing part of each night was being able to listen to the speakers talking to each other, some seasoned Pint of Science-ers, some new to the event. I also had the privilege of facilitating fellow Horizon CDT 2018 cohort member Shazmin Majid presenting her latest work.
This experience has given me confidence in presenting my work and how to go about it, equally how not to go about it. Avoid overloading slides with text and too much inaccessible specialist terminology. It's fine to use some if you define them and get the audience up to speed, but need to find other ways to convey your research if every slide needs 5 terms defining or sub definitions, it breaks up any flow and makes it difficult to follow, particularly for non-experts in the field. Analogies are great, again not too many, and not too convoluted. I have been given advice before on using analogies as they can lead to misunderstanding of concepts if followed too afar, but a well-crafted one can enhance the audience understanding. Demonstrations or activities that let the audience learn through involvement rather than relying on a perfect explanation also seal the deal on a great outreach talk. The simpler the demo the more effective. Though, doing any of those things is no easy task.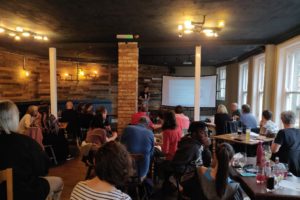 I would encourage other CDT students to get involved in the coming years from either side, later stage PhD students and recently graduated alumni have a great opportunity to put your work out there. Early stage candidates should see how other researchers slightly further along your journey are engaging with this sort of outreach, it might even give you ideas about your own research.